7pm – 9pm on Wednesday, August 20th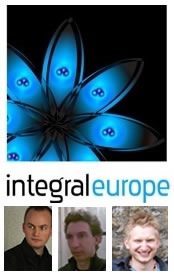 We'd love for you to come and greet our special guests all the way from across the Atlantic, the founders of Integral Europe, Pelle Billing, Ewan Townhead and Peter Kessels. 
They will introduce us to the integral movement in Europe.   This is a very impressive group!   Together, between USA and Europe, we have many opportunities to expand the integral perspective.  Let's all join in!
Posted in Offerings | Tags: Ewan Townhead, integral europe, Pelle Billing, Peter Kessels | No Comments »